Is email a mystery to you? Trust me, you are NOT alone. For years I spent so much time and energy on growing my social media following that I neglected my email list. I had one and would send out an email to my subscribers occasionally. I just didn't see the point in trying to grow my list.
Holy cow yall. Just typing those words make me cringe now! I want to go back in time and smack my former self for neglecting my email list in the beginning. Just a little love tap that says "Get it together! Email is SO important!"
It feels like everyone focuses on social media these days. (I know I did for a LONG time!) And some people even say every year "email is dead" or "email is the past" but those people are so very wrong. But your email list is yours. You can take it with you to any email service provider. You can email your subscribers whenever you want and you always pop up in their inbox. One change in a social media algorithm and you lose half of your views or likes or comments.
I could go on and on (AND ON) about email marketing for your business but let's just start with the basics right now. And sign up for a free email planner as well! (Some of the links below are affiliate links.)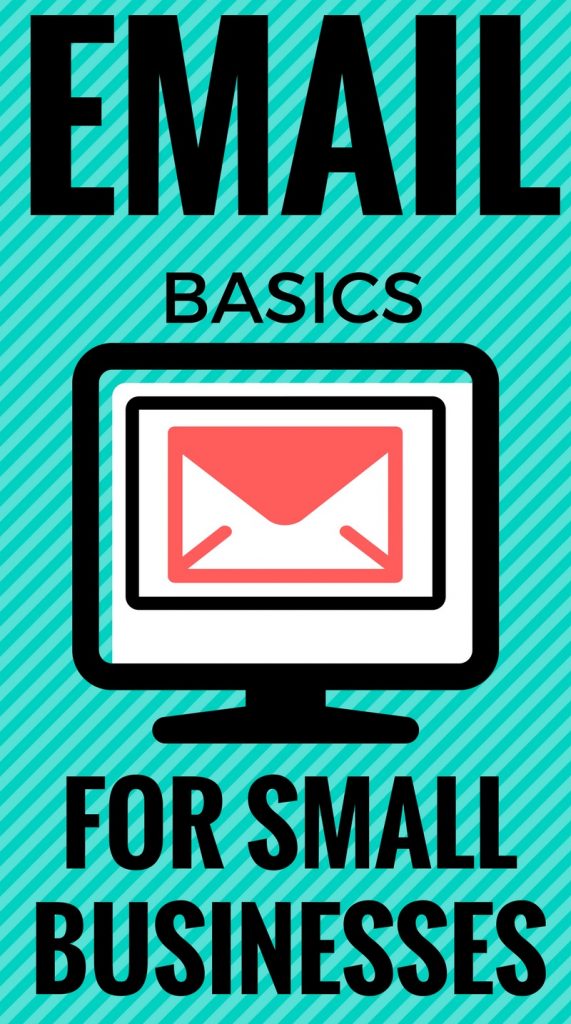 Offer the viewer a reason to sign up
There are very few people that will want to sign up for your email list just based on your blog, website or social media. You need to win them over to your email list. You do this by providing an opt-in incentive. It is sometimes also called a "subscribe bribe" since some people see it as bribing viewers/followers to sign up for your list.
A few ideas on opt-ins include discount codes, exclusive content, freebies, email only giveaways, printables, access to a community, planners and more. No matter what type of opt-in you create it should provide the user some sort of value and be relevant to your businesses niche. You want it to be an even exchange – the user found what they were looking for and you retained them as a subscriber.
Use a good email provider
Having a good email service provider (or ESP) is essential for any small business. Because of the CAN-SPAM Act all businesses are required to use an ESP to send out mass emails, meaning more then a one on one correspondents.
There are ESPs that are very simple and great for businesses that plan to send out occasional emails to their customers. But if you plan on using email as a marketing tool for your small business then I HIGHLY recommend ConvertKit. (This is my affiliate link for the email provider.)
I can't even pretend not to be biased about this one – ConverKit is hands down the best email service provider for any professional business owner. (Pssst. that's YOU!) It has ALL the bells and whistles but it so simple to navigate. It allows you to tag subscribers, create different opt-in forms, create sequences, and of course send out email to your subscribers.
If you are wanting to know more about ConverKit and what it has to offer – sign up HERE for a free webinar. (They are also offering a FREE month of the service just for attending the webinar!)
Also recommended – Email lists made easy by Kirsten Oliphant
Email on a regular schedule
Like most things, for email to be effective you have to do it often. You want to be in your subscribers email boxes often providing valuable content and information. Too often and people will unsubscribe in droves. Too few emails and people will wonder why they signed up and who you are and unsubscribe.
The best way to handle this is to tell your subscribers what to expect in terms of email frequency. A simple "New email every Tuesday!" or "Get our once monthly updates!" works great. The flip side to that is that you have to actually STICK to the email schedule. If you are new to email then start with a once a month email to your subscribers. If people respond well to it then maybe try every two weeks. Just make sure you notify your subscribers of the change.
Get the email planner to help –
Provide value
You have an awesome email provider, you have your email subscribers and you've set out an email schedule. Now what?! Take a deep breath, grab the email planner and start providing valuable content to your subscribers!
Valuable content can include things like:
upcoming sales
discount codes
free printables
exclusive images
interesting articles related to your business
behind the scenes of your business
weekly/monthly motivation
video series on how to use your products or services
I've mentioned it before, but you can recycle content that you've used on social media in your email list. All you have to do is give it a new twist and make it relevant to your email subscribers.
To go along with the email basics I have included an email planner. Enter your email below and I will send it right over to you. Before you start filling it out take a minute to think of some email topics and how often you want to email your subscribers. For example, I email my subscribers once a week and I have an ongoing list of topics to share. It makes it so much easier to write an email when you have been mulling it over for a day/week/month. You may want to check out the Editorial calendar workbook for email content ideas as well.