Looking to create an editorial calendar for your small business?  I've got you covered.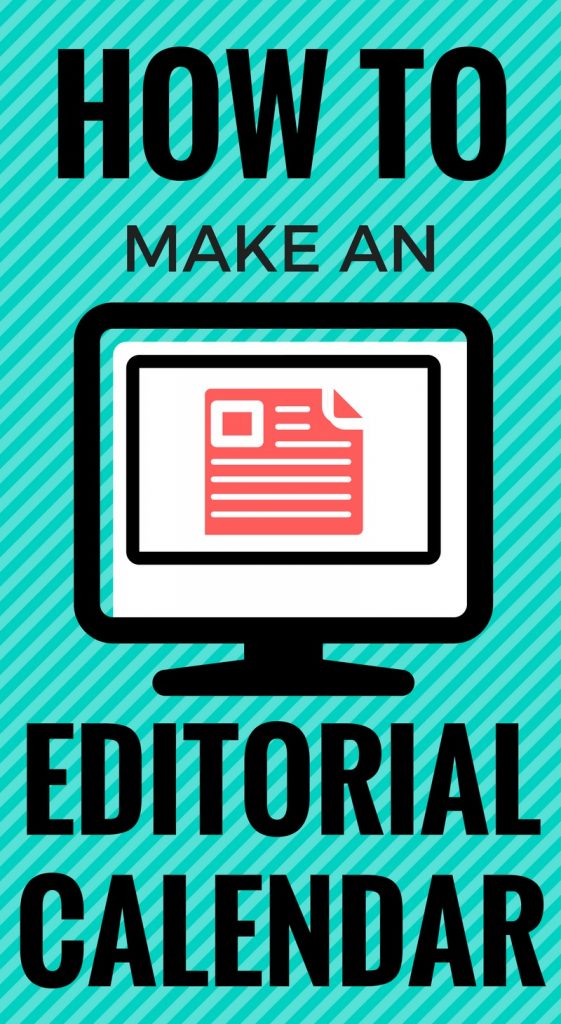 Do you have your editorial calendar for the year done yet? Don't worry if you haven't! It's a process and can take awhile to get the whole year done; but an editorial calendar will help grow your business. (I'm only about half way done with mine at the moment. Shhhh!)
What is an editorial calendar and why do you need one? It's essentially a content and marketing plan for your business. It helps you share content when people are looking for it. You take important dates throughout the year add in your business promotions and use that to create content to share on your blog and social media. By strategically sharing content that your viewers are looking for you can grow your following. Growing your following on social media, your blog and email list will in turn grow your sales.
It's a map to success for the year. It also helps you stay focused and work on things that will help you grow. Instead of creating or sharing things on a whim, you have a custom map that shows you what to share and when.
Sounds pretty awesome, right?!
Let's talk about making an editorial calendar for YOUR business. I've created an editorial calendar workbook to help do just that. I'm sharing an easy equation to guide you through the creation process. I've also included seasonal events to consider, timing of sharing your promos, content ideas and more.
Oh and there are blank worksheets so that you can fill out your own editorial calendar.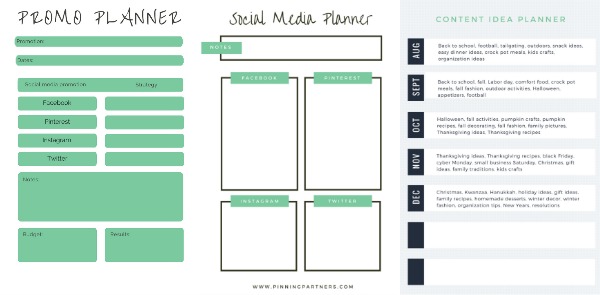 Those are just some examples of the worksheets included.  There are 10 pages in the workbook and then an additional 10 plus pages of worksheets to fill out.  Now for the next part to make sense you are going to need to grab the editorial calendar workbook.  Enter you email and I'll send it right over!  Then come back here to go over it.
Now that you have the workbook handy let's dive in!
Page 1 – We start with the editorial calendar equation.  Month + seasonal events + promos = content calendar.  That equation doesn't mean much yet but let me break it down.
Month – the current month or month you are focusing on
Seasonal events – the upcoming events that will affect your business (Please note that not ALL seasonal events affect ALL businesses. Take into account only those that directly impact YOU.)
Promos – special or ongoing promotions that you want your readers/followers/subscribers/customers to know about
Content – any shared article, news, promotion, recipe, picture or other interaction on your website or social media
You want to take the month plus any holidays or special events and add in your business promotions to help create your content.  Now we are starting to get somewhere!
Page 2-3 – Next we cover some popular seasonal or holiday events.  Think Christmas and Easter and St. Patrick's day.  These are the most commonly celebrated holidays throughout the year.  Again, they all might not pertain to your business, but it's a good place to start.  Take the holidays that your small business needs and add each of them to a promotion planner.  (Included in the workbook.)  The planner helps you understand what you NEED to share and on what days.  You can then take those dates and transfer them to your blank calendar or your monthly checklists.  (Also both included.)
I should also mention that this will be a process.  It will take more then an hour to fill out and organize a years worth of content.  Take your time and breathe.
Page 4 – Have you ever thought about the timing of your promotions?  I hadn't until I was at a blog conference several years ago.  One of the speakers said that if you weren't creating content 2 months before the event (or holiday) then you were already to late.  Did your mouth just drop open like mine did?  I was SHOCKED.  It took awhile (see – years) for that concept to sink in and make sense.  It's the same reason that retailers put out Christmas in August or Valentine's in December.  It's easier to prepare and plan when you have the information (or products) in advance.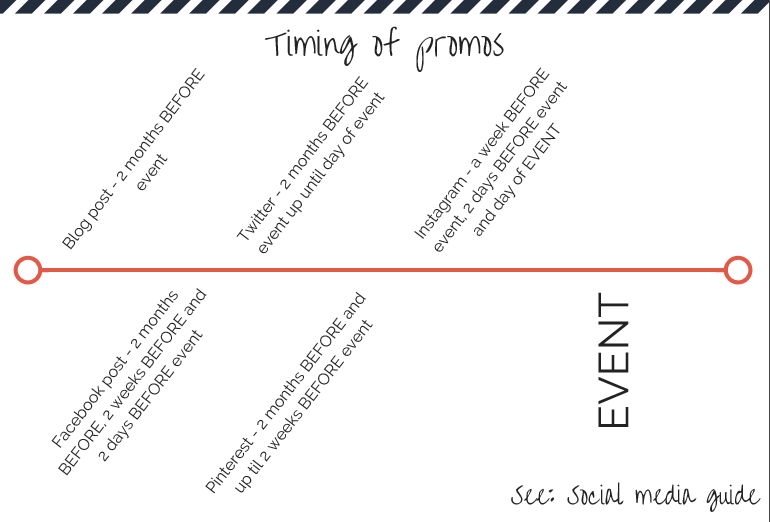 This is the cheat sheet that is included in the workbook that covers the timing of promotions.  It gives you a good idea of when you share things and is NOT written in stone.
Page 6 – A few social media quick tips for sharing.
Page 7 – Take the editorial calendar equation and come up with some content ideas.  I've provided several in the workbook that cover 4 different small businesses.  You are putting it all together to schedule our some ideas for new blog posts or social shares throughout the year.  They don't have to be concrete, just ideas you can firm up later.
Page 8 – Content idea hacks.  My all time favorite content hack is to search for a magazines editorial calendar.  For example, if you own a fishing business search "fishing magazine editorial calendar".  Here is Bass Angler Magazines editorial calendar and Maritime Reporters.  Both were on the first page when I searched for them.  Search for a magazine in your niche to help guide you along.
Page 9 – Putting it all together.  Take some time to sketch out your editorial calendar for your small business.  Remember, it probably won't happen in one day.  The good news is that once you have one written up, you can take what worked and carry it over to next year.
Page 10 – I've also included some bonus worksheets for my email subscribers.  If you want the weekly planner and important marketing dates print, (plus everything else I've talked about) enter your email below!

I think that covers everything.  There are 39 pages of editorial calendar goodness just waiting for you!  If you need a bit more help, I am doing a live editorial calendar training this week in the Pinning Partners Facebook group.  Join in!  (Depending on when you stumble upon this post the training may be over. Use the search tool in the group and type in "editorial calendar training" and the videos should pop up!)
Happy planning!