Hello, hello! This week we were able to turn off the AC again and open up the windows to enjoy the cooler weather. In fact, it was a chilly 43 degrees when I took the kids to school yesterday! Watch out now. I just hope that it's truly "winter" down here and not just a quick cool front. (A girl in South Texas can dream, right?!)
---
Today's topic – What to pin in December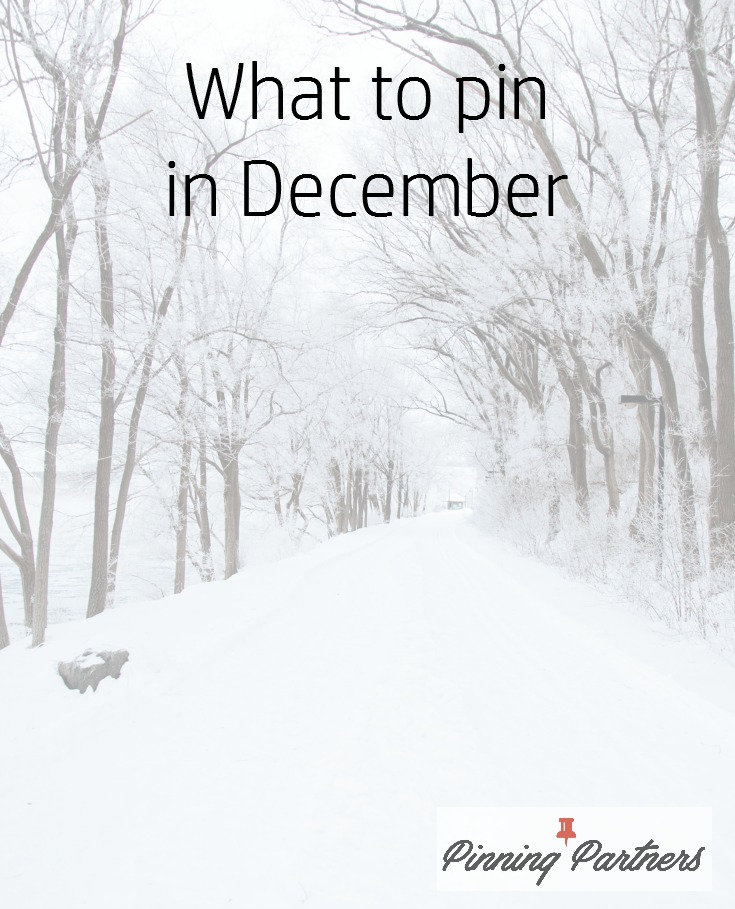 ---
You officially have the go ahead to open the flood gates of Christmas related content. Recipes, crafts, gift wrapping ideas, decorations, ornaments, party ideas. All of it! If it's Christmas related, chances are someone is searching for it!
Besides Christmas you might also want to pin:
Get those gift guides out! I've mentioned before that gift guides are an excellent way to make additional income during the holidays. (They work year round but more people are searching for gift ideas this time of year.) A gift guide is just a list of gift or product ideas based on a specific topic. For example, coffee lovers gift guide, gifts for your neighbor, or toys for spoiled dogs. Use affiliate links whenever possible to generate income when someone makes a purchase. (Please remember to disclose affiliate links!)
It's also time to start looking ahead to the New Year. Start with New Years eve party ideas. Cocktails, appetizers, outfits, invitations. Then make sure to focus on New Year resolution ideas. Healthy living, dieting, organization, saving money, business goals. These are always popular resolutions each year.
And don't forget to start adding in some Super bowl pins. If you don't have much content now is a great time to start focusing on new ideas. (Pssst.. Super Bowl is February 5th in Houston this year.)
---
New feature – showcase!
Pinterest just released a new feature called board showcase.
You can now showcase 5 of your Pinterest boards in a little slideshow at the top of your profile. Add your most popular boards to help give new followers an idea of what you like to pin. It's a fun new feature that they are rolling out now.
---
Update – I talked about the new "tried it" feature last week and wanted to update you on what I found out about notifications. When people "try" your pin you do NOT get a notification to your inbox. I tested this out with a group of friends and none of us received any notice that our pins had been "tried" or commented on. It's a bummer that we won't know when people try our pins but it may be a feature that Pinterest is working on adding.
---
Quick recap –
Pin Christmas content NOW
Start New Years and Super bowl pinning
New showcase feature
No notifications for "tried" pins
Be sure to JOIN our Facebook community as well. I'll be going live tonight to answer some Pinterest questions and talk more about what to pin this month!