Need a free small business marketing planner?  I've got you covered.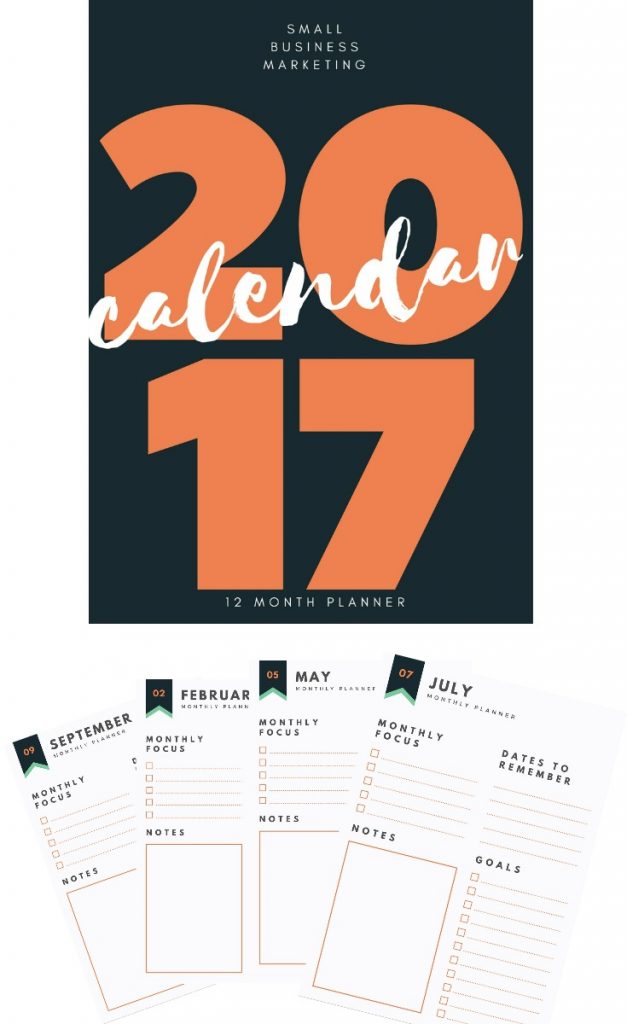 Hey there!  I'm glad you're here today.  Because I have an amazing planner to share with you.  Let me give you a little back story.
I love planners.  And notebooks.  And sharpie pens.  I love organization.
Scratch that.  I love the idea of organization.  It takes me a long time to create an organization system and actually use it.  I get all the pretty things that I think will help me do better at work and then they sit on my desk in a pile.  For weeks.  Then I finally decide to organize my piles of organization stuff.  Does that ring a bell with you?
The truth is that it doesn't need to cost a lot of money or take a lot of time to get your small business organized.  You just need a few minutes to print out this planner and a thumbtack to put it up on the wall.  Or a clipboard.  Or attach it to your fridge with a magnet.  Simple is perfect.
I've created this easy to use small business marketing calendar/planner with simple in mind.  There are 12 pages, one of each month.  Each page has:
a monthly focus
dates to remember
goals
notes
Which I love.  It is great for getting myself organized without being overwhelmed.  Once I start to feel overwhelmed I tend to shut down and just avoid things.  Like a super busy planner or that huge pile of unfolded laundry.
Just pick what you need to focus on for the month, a few important dates (like Cyber Monday or arbor day), and then a couple of goals you'd like to achieve.  Jot down notes as needed and you are good to go.  You are on the path to complete small business organization!
To get your planner all you have do is enter your email below.  I will send over the planner and you get get to planning.  Sounds easy, right?  That's the way it should be.